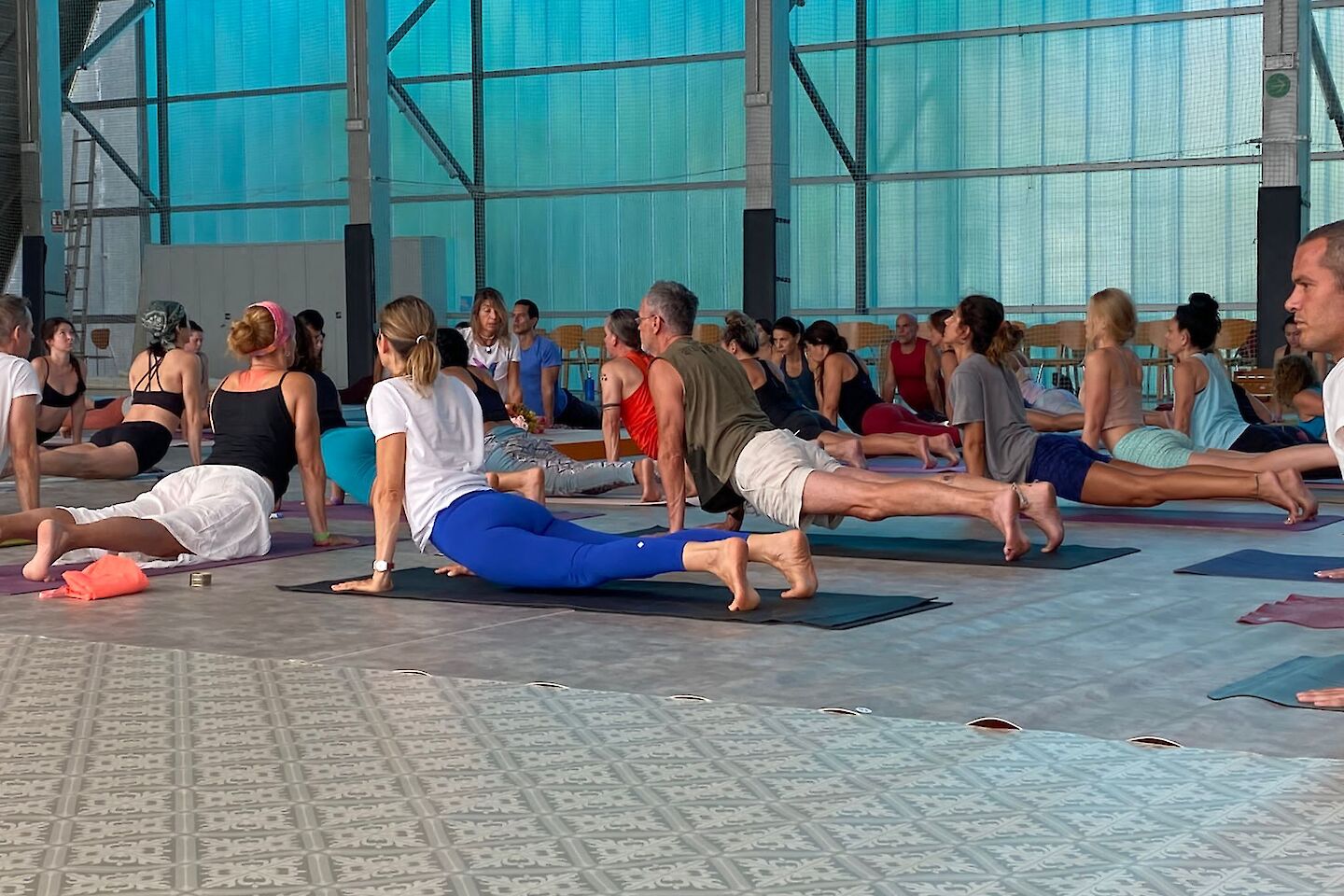 Saturday, October 7, 2023
Masterclass of GPBALANCE in the Global Yoga Congress of Barcelona, addressed to students in training to be yoga teachers
GPBALANCE is a method created by Gustavo Ponce based on traditional yoga, honoring the Indian philosophical heritage, while offering a modern and concrete method. This hormonal yoga technique will allow you to restore your vitality and naturally rebalance your hormonal health and/or that of your students/patients.
This event is open to those who want to teach the method, but also to those who are interested in learning it for their personal practice.
Practice
The 5 sections of GPBALANCE:
The study of different breathing and postural techniques: Kaya Stairyam Sankalpa, Bija Mantras, Prana Vidya, Kapalabhati, Bhastrika 1, Bhastrika 2. These techniques work on stillness, stability and concentration of body and mind as well as the channeling of energy.

Preparatory work of simple postures lying on the back, accompanied by visualizations and the various breathing techniques studied in the previous section. This enables us mobilize energy around pelvic region.

Standing postures whose primary objective is to strengthen the flexibility, strength, balance and agility of our whole body. This also enables us to mobilize energy throughout the body.

In this section, the focus is on pressing the pubis to the ground and strengthening the core area of the body as well as the abdominal area. We will also perform a series of inverted postures.

This last seated section will cover different techniques such as Uddiyana Bandha, Agnisara Dhauti, Nauli, Ashwini Mudra, Nadi Shodhana Pranayama. The essential objective of these techniques being to achieve a rebalancing of the hormonal system in a more intense way than during the various techniques and asanas proposed in the previous sections. They also help to cleanse and lighten the body of functional obstacles caused largely by stress. We end this last section of the practice with a brief contemplation (which includes your last Sankalpa), Neo-Tummo and Yoga Nidra.
The whole series uses different techniques and concepts that we be explored throughout the teaching:
Asanas
Mudras, especially kechari Mudra (used throughout the practice)
Kriyas
Bandhas (very frequently used during practice)
Chakras and Prana
Visualization and concentration (very frequently used during practice)
Meditation
Neo-Tummo
Testimonials
As I believe nothing happens by chance, GPBALANCE was exactly what I needed. A lot of broken paradigms, a practice partly very different from the one I have been practicing for years, which is based on Iyengar Yoga, but a practice that energizes me and strengthens my body a lot, I feel really good.

Mariana Akamine Bergamasco (Brazil)
With Juliana Spelta + Gustavo Ponce (Brazil, 2021)
I loved this immersion and the discovery of gpbalance, in a very supportive group. I found this approach fascinating and felt the benefits immediately in terms of vitality. I appreciate the value of Gustavo's teaching, which brings us not only to a physiological and health dimension that is completely up-to-date, but also to the foundations of yoga and even to its depths. I feel both fortunate and grateful to have been able to participate.

Marie-Laure Hairie (France)
With Frédérique Verdeau + Fanny Lehideux + Gustavo Ponce (France, 2022)
This practice overwhelmed me by the sensations it provides, a particular state oscillating between power and calm. It is so complete and so different from other practices, that it is worth discovering, teaching and practicing.

Fanny Chassefière (France)
With Fanny Lehideux + Frédérique Verdeau (France, 2021)
Thank you again for this teaching of exceptional quality which still carries me. I was impressed by the precision with which you transmit this precious knowledge.

Catrin Schnapper (Germany)
With Fanny Lehideux + Frédérique Verdeau (France, 2022)